Samsung 27 Inches Qhd S27H850Qfe Pls 16:9 2560X1440 178Degh/178Degv 4Ms 60Hz HDmi Dp Usb-C Usb Daisy Chain 3.0 Hub Vesa Tilt Swivel Pivot Has Stand
Consistent colours at many viewing angles
The SH85 can be a right fit for a professional work environment. The high-end PLS display which is almost borderless on three sides, has a pixel density of up to 7 times higher than Full HD. Texts are thoroughly vivid and images crystal clear with minimal colour shift, from almost any angle.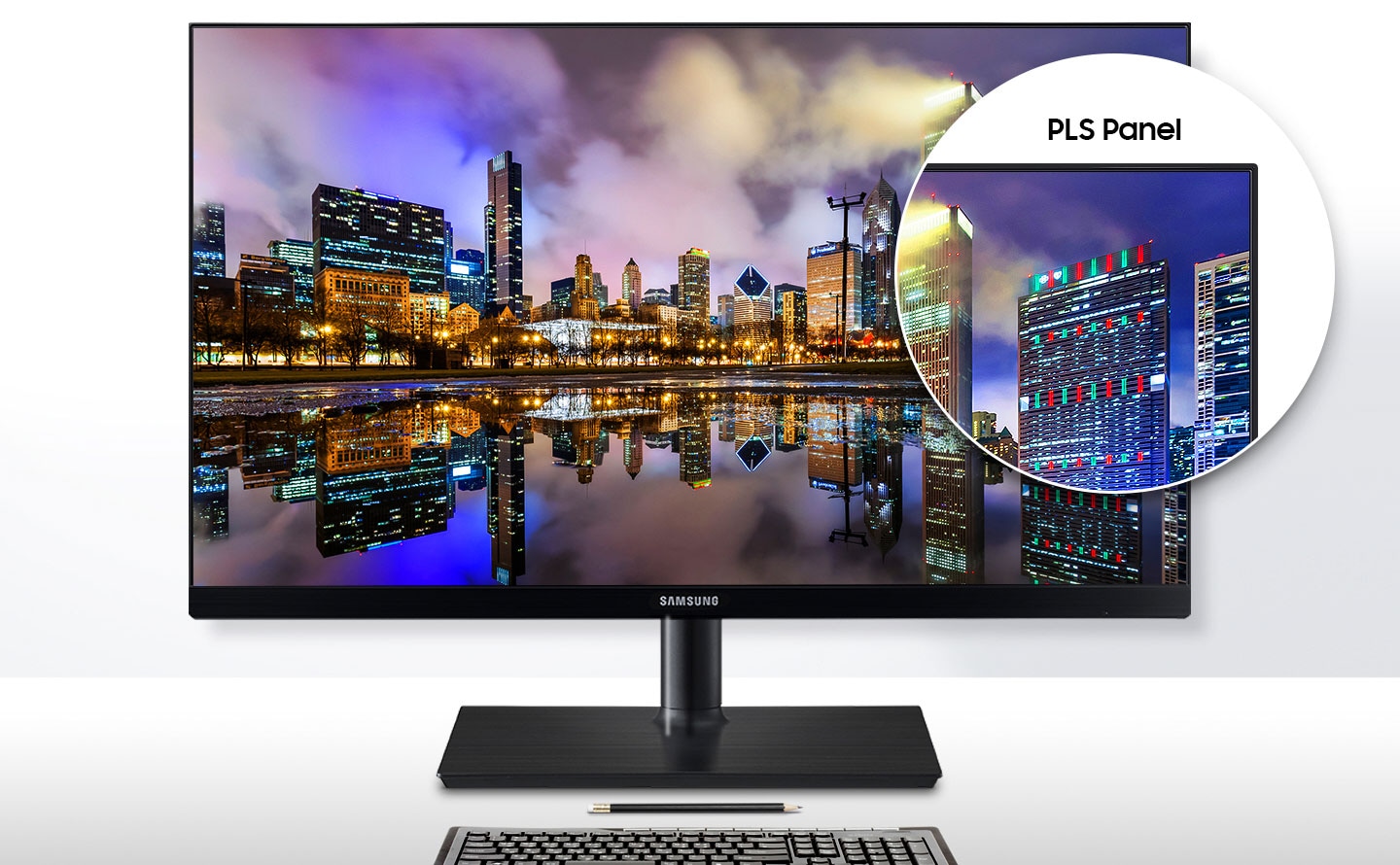 *Keyboard sold separately.
Great Detail, Great Space
WQHD Resolution
With up to 1.7 times the pixel density of Samsung Full HD, WQHD not only delivers incredibly detailed, pin-sharp images — it creates a wide workspace that lets you view extra documents and webpages onscreen with minimal need to scroll or zoom.
USB Type-C – It's an ultimate hub
Ultimate connectivity with a single compatible cable
The USB type C port enables you to power**, send data and display signals between compatible devices* with just a single connection. The single connection architecture enables you to create a work environment that is clutter-free, allowing for a stress free working space
*Additional devices sold separately **Depending on your monitor requirements, power requirements and settings, it may not support charging compatible devices. SH85 and CH80 support charging only for devices up to 45W. CH89 supports devices up to 65W.
Besides a dedicated USB type-C port for any compatible computer or mobile device, you can also use your USB 3.0 ports for multiple peripherals without needing extra hubs.
*Additional devices sold separately.
Extend your mobile device
Experience your Samsung Galaxy S8 and Note 8 in a whole new way by connecting to a Samsung USB Type-C monitor without the use of hubs or apps. The use of a large screen can help increase your enjoyment and productivity, especially when sharing with others at home or work.
*Accessories sold separately.
A great way to multitask
PBP/Easy Setting Box
With its Easy Setting Box, you can partition your display, or place multiple displays of various sizes in different positions; its Picture-by-Picture function lets you display outputs from up to two compatible devices. The function equips you to efficiently handle the challenges of your multitasking environment.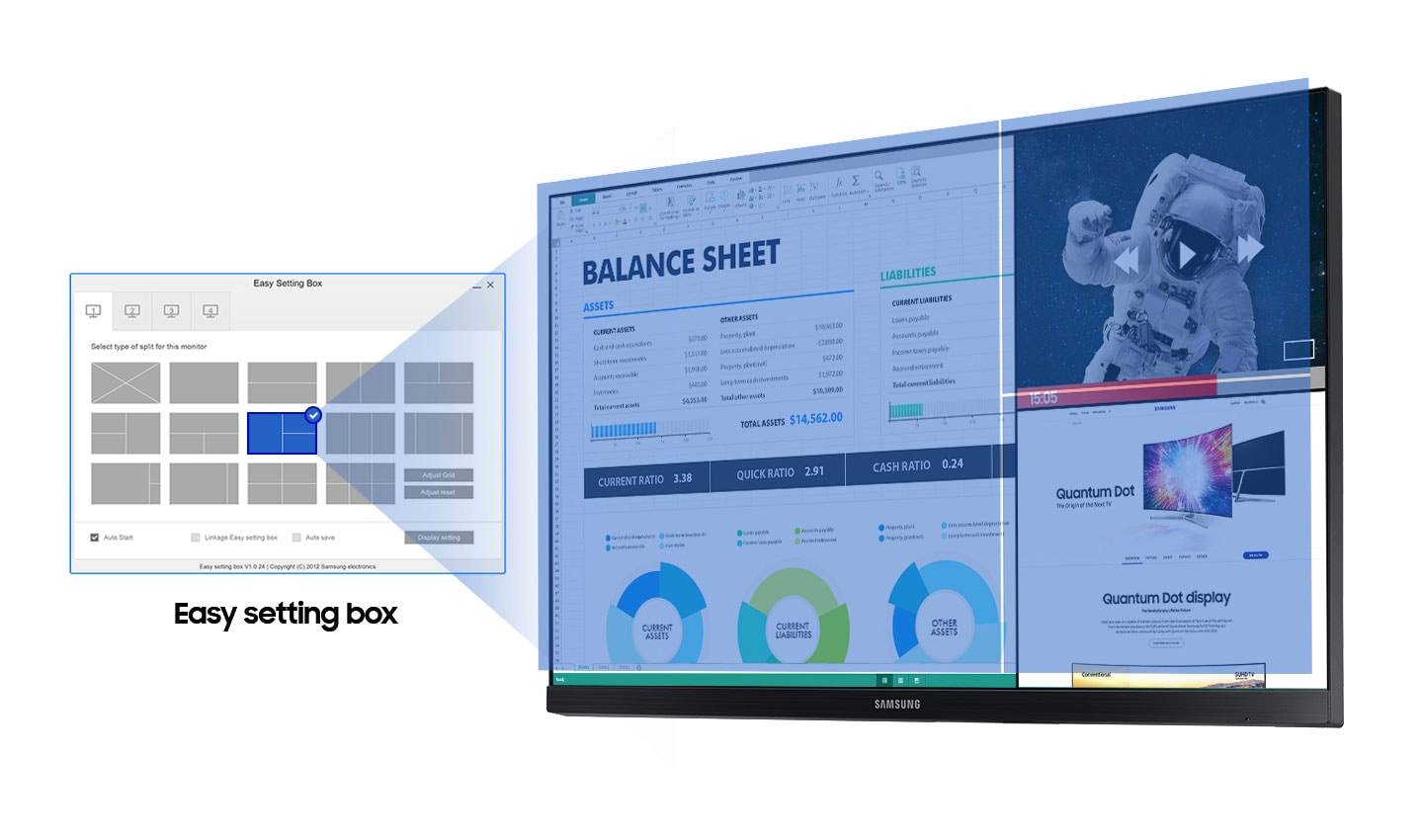 Extend and duplicate with Daisy Chain
The SH85's daisy chain function allows extension and replication in multi-monitor settings with just a single DP cable connection. You can display its onscreen content on a second compatible monitor at the same QHD resolution. Communications in conference settings are easy with the SH85.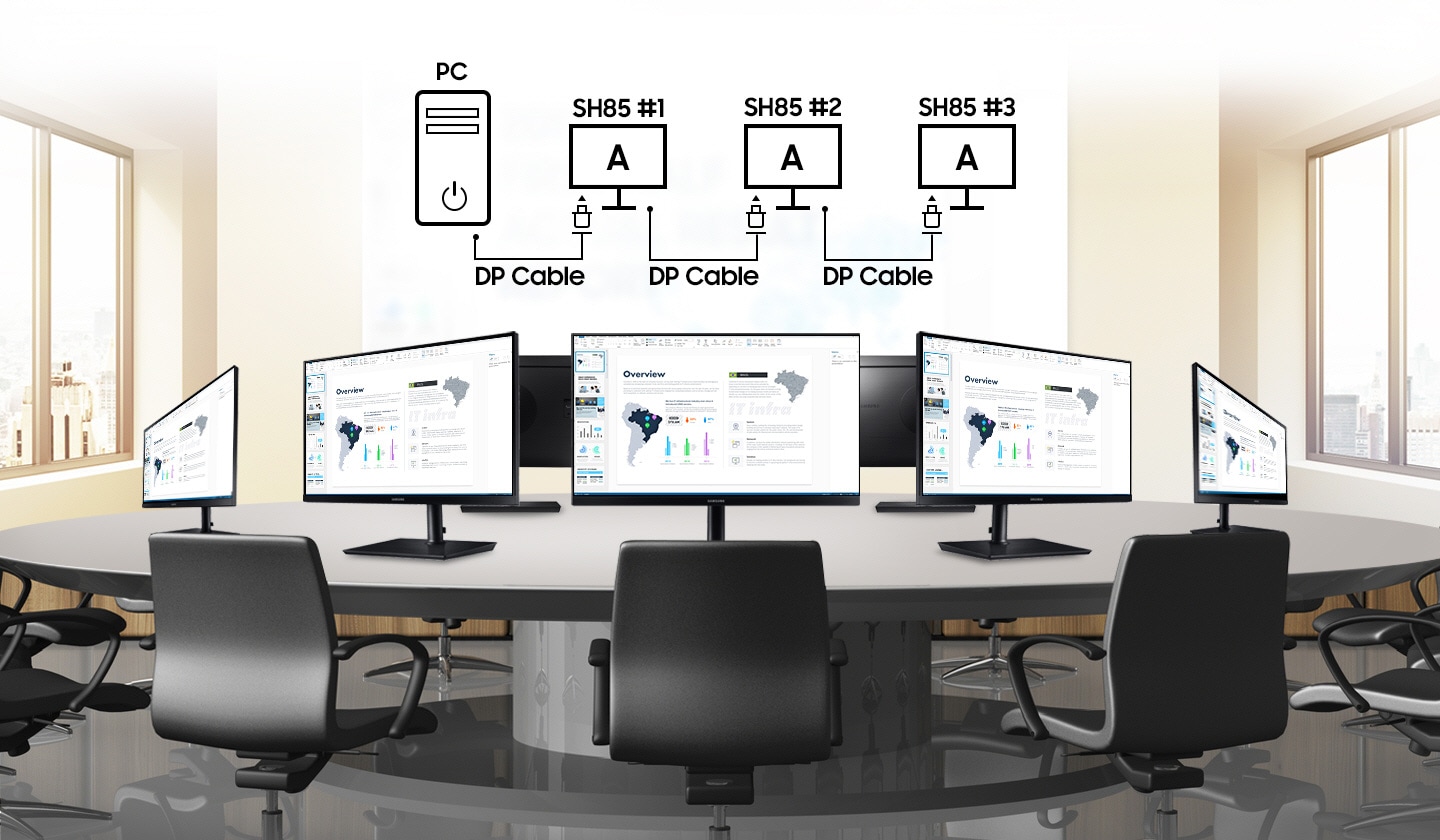 Long-lasting eye comfort
Eye Saver Mode
Samsung's Eye Saver Mode is designed to reduce blue light emissions, which are known to cause damage to the retina, and in turn can help minimise eye strain when working long hours. Furthermore, the Flicker Free technology offers a comfortable viewing experience.
Increase your ergonomic efficiency
It swivels, tilts, pivots, and is height-adjustable, ready to meet the needs of any usage scenario. VESA - supported, it can be installed on a wall or separate arms with ease. Its sleek yet sturdy build, coupled with clean back design, blends in perfectly with any office or personal space.