DELL DISPLAYPORT(M) TO VGA(F) ADAPTER
Overview
Adaptor converts DisplayPort to VGA
The versatile Dell DisplayPort to VGA adaptor enables you to view video content from any laptop or desktop with DisplayPort (DP) video output on a variety of VGA-compliant displays, ranging from monitors to projectors. Compliant with DisplayPort specifications version 1.1a and supporting a maximum video resolution of 1920 x 1200, this user-friendly adaptor ensures a quality viewing experience.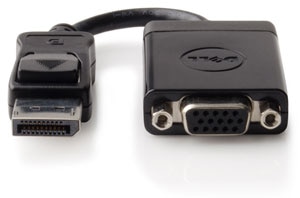 ---
Video adaptor ensures connectivity
This video adaptor allows you to take video content from your laptop or desktop and display it on any monitor, projector or HDTV featuring a VGA input. As long as your device is equipped with a DP output, this compact adaptor ensures a seamless conversion. Use it to enjoy films on a home projector, mirror your desktop for an expanded workstation or show presentations at school or work.
---
Enjoy a crystal-clear viewing experience
The Dell DisplayPort to VGA adapter supports video resolution of up to 1920 x 1200, making it an ideal for enhanced presentations and intricate graphics.
---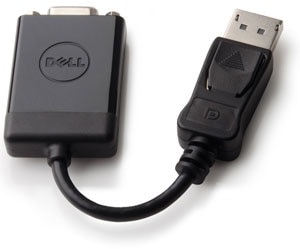 Compact size offers easy portability
Measuring 7 x 0.5 (L x H) inches, this plug-and-play adaptor is easy to use and keep handy for impromptu presentations for clients or film nights with friends. The adaptor is fitted with a DisplayPort on one end and a 15-pin HD15 VGA on the other, a standard fit for a wide variety of VGA compatible display monitors, projectors and HDTVs.
---
Adapter is DisplayPort compliant
The adapter is compliant with DisplayPort specification version 1.1a, ensuring true DP quality when video content is adapted and viewed. DisplayPort 1.1a specifications allow there to be a longer reach between source and display without reducing picture quality.
Tech Specs
GENERAL
Device Type
Video converter
Max Resolution
1920 x 1200
Interfaces
1 x DisplayPort input - 20 pin DisplayPort - male 1 x VGA output - 15 pin HD D-Sub (HD-15) - female
MISCELLANEOUS
Depth
17.8 cm
Height
1.27 cm
MANUFACTURER WARRANTY
Service & Support
Limited warranty - 1 year
COMPATIBILITY INFORMATION
Designed For
Alienware 13 R2, 14, 15, 15 R2, 17 R2, 17 R3, M11x, M11x R3, M11xR2, M14x, M14xR2, M15x, M17, M17x, M17xR2, M17xR3, M17xR4, M18x, M18xR2 Dell Inspiron 13 7347, 14 3442, 14 3451, 14 5447, 14 7437, 1440, 1464, 14z 5423, 15 3542, 15 3543, 15 5547, 15 5548, 15 N5010, 1545, 1546, 1564, 15R 5520, 15R 5521, 15R 5537, 15R N5110, 15z 5523, 17 5748, 17 5749, 17 7746, 1750, 1764, 17R 5720, 17R 5721, 3250, 3252, 3452, 3458, 3520, 3521, 3552, 3650, 3655, 3656, 3721, 3737, 3847, 535, 535s, 537, 537s, 545, 5458, 545s, 546, 546S, 5559, 560, 560s, 570, 5759, 580, 580s, 620, 620s, 660, 660s, 7537, 7559, 7568, 7720, 7737, M101z, M4110, M5040, N3010, N4010, N4020, N4030, N4110, N411z, N7010, N7110, One 2305, One 2310, One 2320, One 2330 Dell Latitude 10-ST2, 13, 13 7350, 2100, 2110, 2120, 3160, 3330, 3340, 3350, 3440, 3450, 3460, 3470, 3540, 3550, 3560, 3570, 6430u, 7275, E4310, E4310 N-Series, E5250, E5270, E5410, E5410 N-Series, E5420, E5420 N-Series, E5420m, E5430, E5440, E5450, E5510, E5510 N-Series, E5520, E5520 N-Series, E5520m, E5530, E5540, E5550, E6220, E6230, E6320, E6320 N-Series, E6330, E6400 ATG, E6400 XFR, E6410, E6410 ATG, E6420, E6420 ATG, E6420 N-Series, E6420 XFR, E6430, E6430 ATG, E6430S, E6440, E6510, E6520, E6520 N-Series, E6530, E6540, E7240, E7250, E7270, E7440, E7450, ST, XT2, XT2 XFR, XT3, Z Dell Precision Mobile Workstation M20, M2300, M2400, M2800, M3800, M4300, M4400, M4500, M4600, M4700, M4800, M50, M6300, M6400, M6500, M6600, M6700, M6800, M90 Dell Precision Rack 7910 Dell Precision Tower 5810, 7910 Dell Venue 10 5050, 10 7040, 10 Pro (5055), 10 Pro (5056), 11 Pro (5130), 11 Pro (7130), 11 Pro (7139), 11 Pro (7140), 5830 Pro, 7 3740, 8 3840, 8 7840, 8 Pro, 8 Pro (3845) Dell Vostro 3558, 3905 Dell XPS 12 9250, 13 (9333), 13 (9343), 13 (L321X), 13 (L321X-MLK), 13 (L322X), 13 9350, 15 (9530), 15 (L501X), 15 (L502X), 15 (L521X), 15 9550, 17 (L701X), 17 (L702X), 625, 730x, 8300, 8500, 8700, 8900